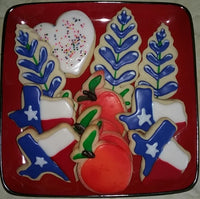 Fredericksburg Dozen
A dozen decorated sugar cookies is a Hill Country theme.  Texas, Bluebonnets, Peaches and a Heart with Sprinkles.
Buy It!
"I love to bake cookies for my family. In fact, that is what I am known for! Dawn's cookies out do mine!!! Now when I am entertaining or giving cookies as gifts and treats...to friends AND family, I now turn to Dawn!!! They are absolutely scrumptious1 Rarely do cookies taste as good as they look....HERS DO!!! Professional look with a homemade taste! What more could you want???"

Kim
Dawn has been my go to for every family and school event the last 9 years. Shes always up for a challenge, and every cake seem to top the last. Dont even get me started on the sugar cookies, not only amazing, but customizable to every and any event!

Jennifer
The cookie are always amazing. I have a very picky child and only eats Oreos or chocolate chip. So for her to eat Dawns cookies that are amazing in the first place is a good sign that these cookies are amazing and very delicious. We give them 2 thumbs up.

Alicia
I own three Bed & Breakfasts in Fredericksburg! I like to put treats out for my guests to open the door and be delighted ! Dawn Makes Cookies are second to none. I have so many guests write in the comment book.......thank you for those yummy sugar cookies. I get her to make me an extra just to eat in my car when I pick them up each week. They are custom made for each holiday. I would call them scrumptious !!!! Thank you Dawn !

Barbara
Custom content
Ready to place your order? Let us tell you how it works.
When you place your order, we will contact you to schedule a pick up date and time.  We currently offer curbside pick up.  If you have any questions, please don't hesitate to contact us.  830/456-1552  (Call or Text) We are happy to help.